Y
ou'll be pleased every time you walk through a replacement entry door by HOME BUILD.
Let us help you find a front entry door for your grand entrance, a side-entry door, a sliding glass door, or french patio door to the deck. Regardless of which type of entry door you need, our complete line of replacement entry door systems are installed only by professionals installers and are backed by our life time warranty. Our top manufacturers are: Pella, Marvin, Simpson and Therma-Tru.
When it comes to front doors, there are basically three main types to consider – wood, steel and fiberglass composites. You will find homeowners who are very satisfied by each type of entry door available for a number of reasons. That's because, overall, each of them actually perform quite well. But each does haves differences in materials, styles and price points. So to find the one that best suits your needs, HOME BUILD has compiled the informative descriptions below. In each, you'll find the advantages and disadvantages of each. For additional information about doors, or for a free consultation and estimate, contact HOME BUILD at (847) 687-1445.
We are here to install the right doors for you!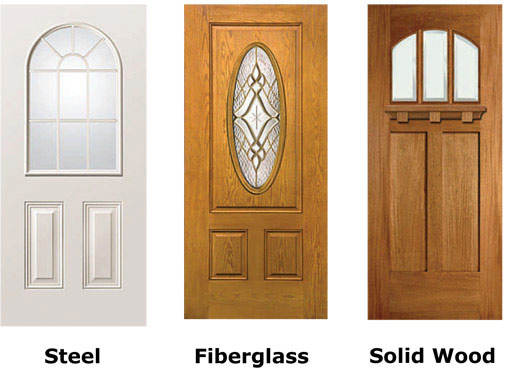 Testimonials
HOME BUILD was simply amazing. They replaced two old windows with a brand new patio door with expert craftsmanship and efficiency. From demolition though installation to cleanup, their skill and attention to detail was incredible. I could not be more thrilled. I would highly recommend HOME BUILD to anyone.
George K. Chicago Area, IL
"I am very happy with the construction that HOME BUILD did on my house. They gave me quality windows and doors at a reasonable price. They moved my front door to the other side of the house, took out a picture window upstairs and reconfigured the picture window in the living room. They built a new front porch with all composite materials. Tore off the old siding, insulated the walls and did an excellent job on the new siding. They did everything that I asked them and more. My neighbors are still raving about my house. Thank you HOME BUILD."
"I absolutely thrilled with my new windows. Before my consultation with HOME BUILD, I hadn't considered a bay window as an option, but the results are incredible. Light just pours into the room, and since the window extends out over two feet, the room also feels much bigger than before. And my new double-hung windows are so easy to operate and clean. The professionals at HOME BUILD did a great installation job and their clean up was as meticulous as I've ever seen. Nice job!"
I had to replace my old windows before selling the house, and I got a referral to your company from a friend. I was so impressed with the professionalism and overall craftsmanship! The new windows greatly increased the value of my house and it was all because of you. Thank you for your hard work and reasonable prices!