Each project we undertake is unique and must be customized to the specific needs of each homeowner. HomeBuild is committed to deliver the finest quality products and install them with unparalleled craftsmanship for each and every one of our customers. For over 15 years, we have hired only the most qualified installers and salesmen to ensure the highest level of professionalism for every step of every project.
Each of our staff members has at least four years of experience working with HomeBuild. In addition, we hold ongoing training and safety seminars with our staff to make sure they constantly update their expertise and know-how on very latest products and installation techniques.
Our owner, Steve Mlynek makes it a point to visit each job-site at every stage of each project to discuss any questions or concerns with our customers. We are committed to provide each of our clients with superior products, expert workmanship, and a finished product you will be satisfied with — all at a great price. Full warranties and insurance are available for all services rendered.
Our Services:
The windows and doors in your home are an important part of your and your families' lives each and every day. You rely on them, not only to look great and enhance the beauty of your environment, but also to function properly and effortlessly when needed. Whatever your window and door needs, you can count on HOME BUILD for the products and services that best suit your specific needs.
We offer a comprehensive array of  services, from replacements to building new windows and doors for your home from scratch. We also do expert repairs and maintenance.  Whatever your needs, turn to HomeBuild.
Our experienced staff includes experts at every facet of window and door installation, from analyzing your needs to suggesting ideas and specific products all the way through to complete and professional installation. From estimate to completion, you will always have an expert HomeBuild associate at your disposal.
We buy our non-custom materials at bulk, allowing us to keep our prices down while supplying produsts of the highest quality.
For a free estimate for new windows or doors, or repairs or an ongoing maintenance program, call HomeBuild at (847)687-1445 for a free consultation today!
Meet our owner and founder Steve Mlynek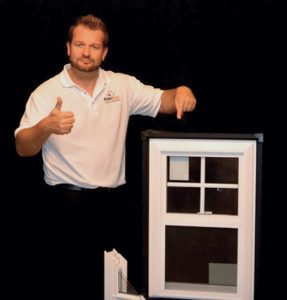 As a teenager, Steve came to the U. S. to study English. To make ends meet, he got a job at a window manufacturing company on their assembly line. He quickly moved up to an installer and within 2 years gained all the experience and expertise necessary to become a crew leader for small and larger installation projects. When another promotion found Steve supervising several installation crews simultaneously, he realized it was time to use his talents and experience to start his own business. It was then that HomeBuild – WINDOWS ∙ SIDING ∙ DOORS was founded. HomeBuild has now been serving Chicago homeowners since 2005, and focuses on recommending windows and doors that are custom- selected to best suit each homeowner's specific needs for beauty and energy efficiency. This exceptional service results in many customers returning again and again with additional projects, as well as many word-of-mouth referrals. HomeBuild has, in a short time, become one of Chicago's most requested and recommended window and door installers.