H
ome Build install windows manufactured by companies that have rigorous quality control standards, excellent customer service and industry leading product warranties. Our top manufacturers are:
Pella, Marvin and Alside
The most common types of residential windows are:
double hung, casement and sliding.
For basements awning or hopper windows offer the best combination of fit and function.
Bow, bay and picture window units are great focal points in common areas such as living rooms, family rooms and dining rooms. They also add style and open up your living space.
All of these window types can be used in both replacement window and new construction applications. The primary window materials are: vinyl, wood, fiberglass, composite and aluminum. They each have their proper place when considering budget, style, maintenance considerations.
Our consultation process it tailored to educate and inform, giving you choices to ensure that you get the right window for your style and budget.
We are here to install the right window for you!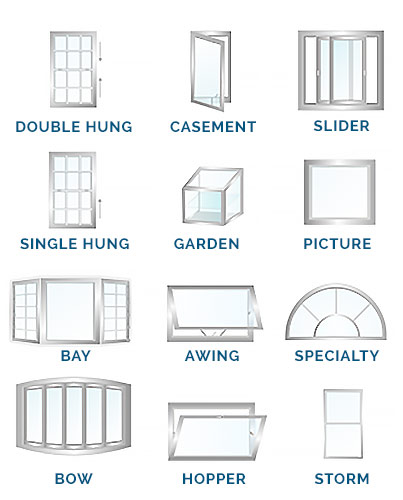 Testimonials
HOME BUILD was simply amazing. They replaced two old windows with a brand new patio door with expert craftsmanship and efficiency. From demolition though installation to cleanup, their skill and attention to detail was incredible. I could not be more thrilled. I would highly recommend HOME BUILD to anyone.
George K. Chicago Area, IL
"I am very happy with the construction that HOME BUILD did on my house. They gave me quality windows and doors at a reasonable price. They moved my front door to the other side of the house, took out a picture window upstairs and reconfigured the picture window in the living room. They built a new front porch with all composite materials. Tore off the old siding, insulated the walls and did an excellent job on the new siding. They did everything that I asked them and more. My neighbors are still raving about my house. Thank you HOME BUILD."
I had to replace my old windows before selling the house, and I got a referral to your company from a friend. I was so impressed with the professionalism and overall craftsmanship! The new windows greatly increased the value of my house and it was all because of you. Thank you for your hard work and reasonable prices!
"I absolutely thrilled with my new windows. Before my consultation with HOME BUILD, I hadn't considered a bay window as an option, but the results are incredible. Light just pours into the room, and since the window extends out over two feet, the room also feels much bigger than before. And my new double-hung windows are so easy to operate and clean. The professionals at HOME BUILD did a great installation job and their clean up was as meticulous as I've ever seen. Nice job!"